About Cridge Seeds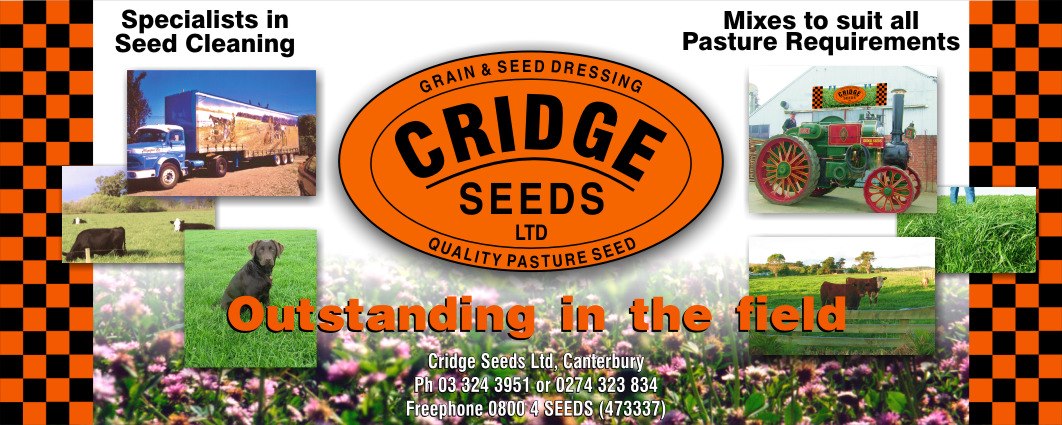 Cridge Seeds Ltd is situated in Doyleston, Canterbury 50km south of Christchurch near the Rakaia River – famous for its salmon fishing, jet boating and of course top quality rye grass. Cridge Seeds is a long established business and has been farming through the generations for over 100 years. Stuart Cridge formed the company in 1982. He has over 40 years experience being brought up in Ellesmere and has dealt with a large number of farmers nationwide, and overseas throughout his ownership of the company. Their own brands of grass seed are grown locally, cleaned at the company to a high standard, with purity and germination tests available on request. Orders are then processed and moved out the door to reach the destinations for sowing.
Stuart's wife, Julie, is Business and Marketing Manager and has been involved with the company for nearly 20 years. She has a wide range of knowledge communicating with farmers throughout New Zealand and overseas. She too, was bought up in the farming community (Malvern) in a well known family of generations working on the land. Travel overseas to trials in Australia and viewing of farms in China, Mongolia and USA, Annual field days in both North and South Islands have proved effective in the existence of Cridge Seeds and the effect they are having on the market.
Nick is Manager of Cridge Seeds and has grown up around the company. He has many skills and is keen to help out with all your seed requirements and give suggestions. His strong work ethics and high priority customer service will carry on the tradition as of the past years. Word of mouth, sightings of pastures, superior growth, competitive prices, high priority customer service and still there year after year, have added to a successful business. Delivery is aimed at a time of 5-6 working days from ordering so please plan ahead. January through until April is our busiest time for Autumn sowing and August through November for Spring sowing.